San Luis Obispo County Board of Supervisors - November 26, 2013 - Agenda Item 33 - Speaker: CORRAL founder Daniella Sapriel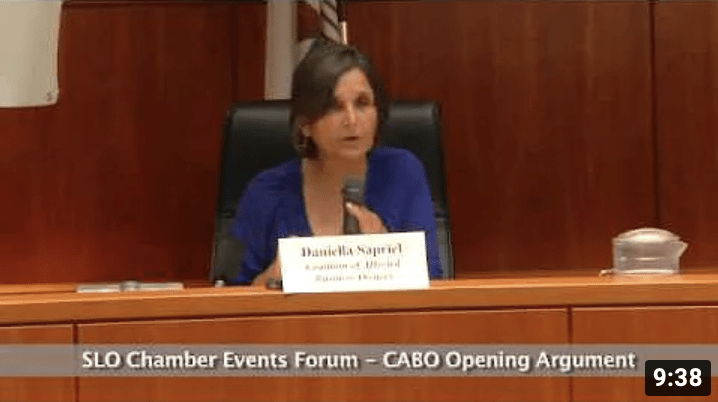 SLO Chamber Events Forum CABO Opening Argument
The SLO Chamber of Commerce held a forum at the SLO County Government Center on 7/27/09 to discuss the proposed Events Ordinance and the potential effects it would have on the area. This video shows the opening argument made by Daniella Sapriel of CABO
SLO County BOS August 6, 2013 PRGB Urgency Ordinance
San Luis Obispo County Board of Supervisors - August 6, 2013 - CORRAL founder Daniella Sapriel addresses Agenda Item 27.
July 30th, 2009 SLO PC Meeting Part 9 of 24 (CABO)
This is the video of the SLO Planning Commission Meeting held on July 30, 2009. At the end of the morning session the Commission voted unanimously to request that the Board of Supervisors provide clarification as to the legislative intent for the Events Ordinance.